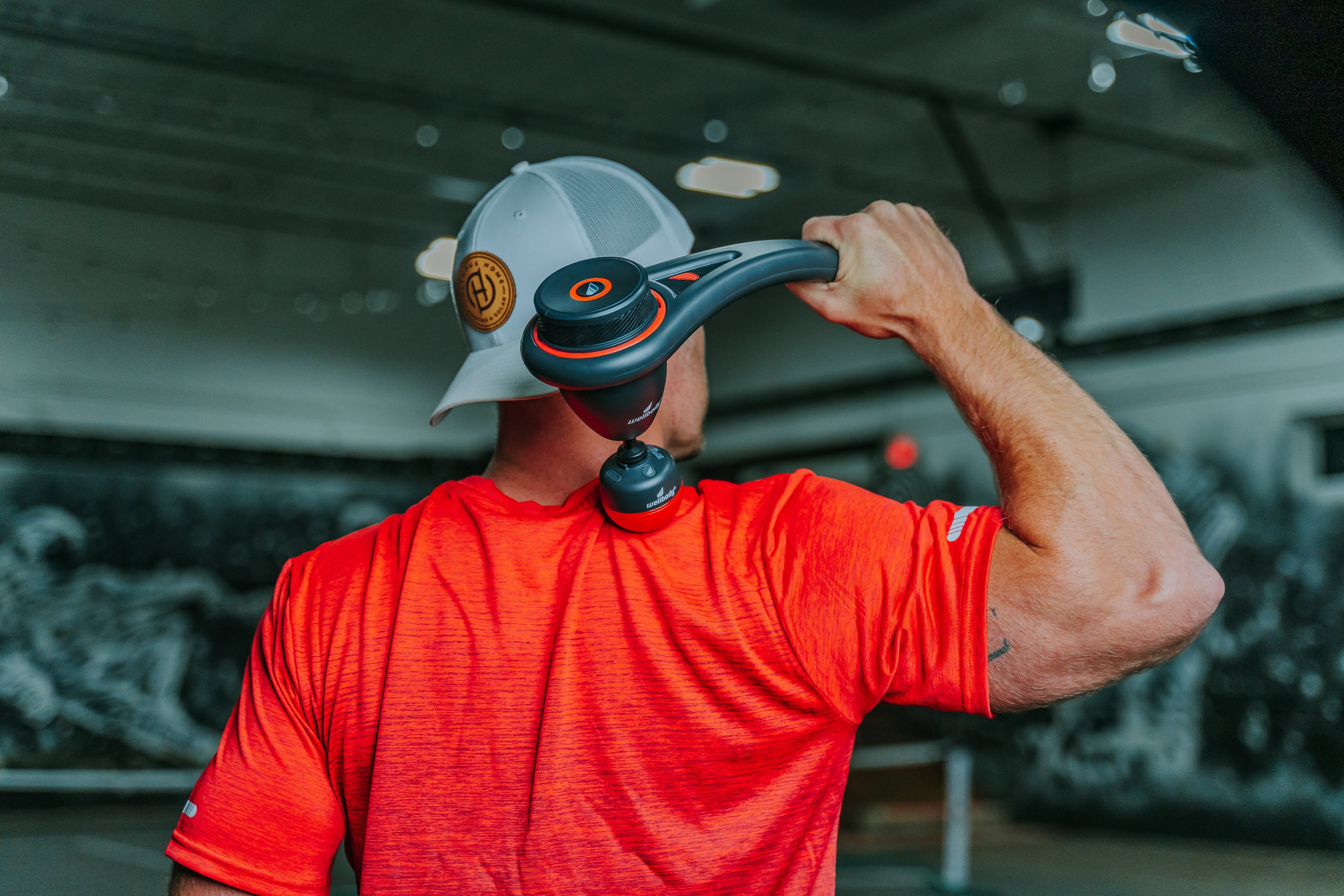 WellBody WingSpan
The Massage Device That Reaches Where Massage Guns Can't
---
The WellBody® WingSpan reaches where massage guns can't. Its unique extended handle allows you to better reach your shoulders, back, hamstrings and calves, all places that are difficult to reach with traditional massage guns.
Like all WellBody percussive massage devices, WingSpan features HeatBall™ Technology and ultra-quiet operation. The lightweight, compact 3-speed unit weighs just over a pound and has a special anti-torsional grip for optimal control.
1 WingSpan with Handle
1 Micro USB Charger
1 Performance Carry Bag
Three Percussive Tips Included (Firm)
10V System
3-Speed Operation
Weight: 455g (680g w/ handle)
Stall Force: 20 lbs
Noise: 55-65 dB
Shipping & Return Information

For a limited time, we are offering Free Shipping on all domestic orders to the United States. For International Orders, standard carrier rates will apply.

At WellBody we are committed to excellence, therefore, if you are not 100% satisfied with any WellBody products for any reason, return it within 30 days of purchase.
The WingSpan with HeatBall Technology is the most innovative massage device I have ever used.  I keep it in my golf bag and use it before my round and at the turn. The handle reaches my shoulders, hamstrings and back without contorting my body. This thing is like swing oil, and I have gained distance since using it . I no longer have to play 4 holes to get loose, WingSpan is the answer!
What didn't WellBody think of, the HeatBall, the DeepSpeed, and the build quality, are amazing. A warm up and warm down massage like nothing else! Rugged but lightweight with a grip that glues to your hand, even for small hands like mine. This is simply the best massage gun on the market. WellBody is the new kid on the block and it looks like they are here to stay. Let's go!
Revolutionary HeatBall™
The WellBody® HeatBall is a rechargeable heated ball that attaches to the massage gun like any other tip but that has an internal heating element that heats up the ball. The heat is transferred to your sore muscles during the percussive therapy to enhance blood flow and, therefore, promote faster recovery.
3-Speed Performance
The WellBody WingSpan offers three manual speed choices: 1000 spm, 2000 spm, or 2500 spm.
Lightweight and Compact
WingSpan is lightweight (just 1.07 lbs.) and compact thanks to the clever detachable handle that makes for compact storage and travel.
WingSpan Features
Get To Hard-To-Reach Muscles
Unique extended handle allows you to better reach your back, shoulders, hamstrings and calves, all places that are difficult to reach with a massage gun.
Anti-Torsional Grip
For safe, easy handling even when reaching.
TwistLock™ Tip Attachment
Simply slide the tip into place and give it a quick quarter turn to lock it into place.
WhisperDrive™ Anti-Vibe Brushless Motor
Designed to withstand the rigors of daily use and high-speed vibration.
All-Aluminum (Plastic-Free) Powertrain
The drivetrain (motor spindle, arm and shaft connection) is made of premium ADC–12 aluminum - no plastic powertrain parts.
Extra-Long Free-Glide, Aluminum-Bronze Bushing
Provides greater stability and efficiency, which reduces wear and noise.
Advanced DeepSpeed Percussion
WhisperDrive Anti-Vibe Brushless Motor
This product has no reviews yet.