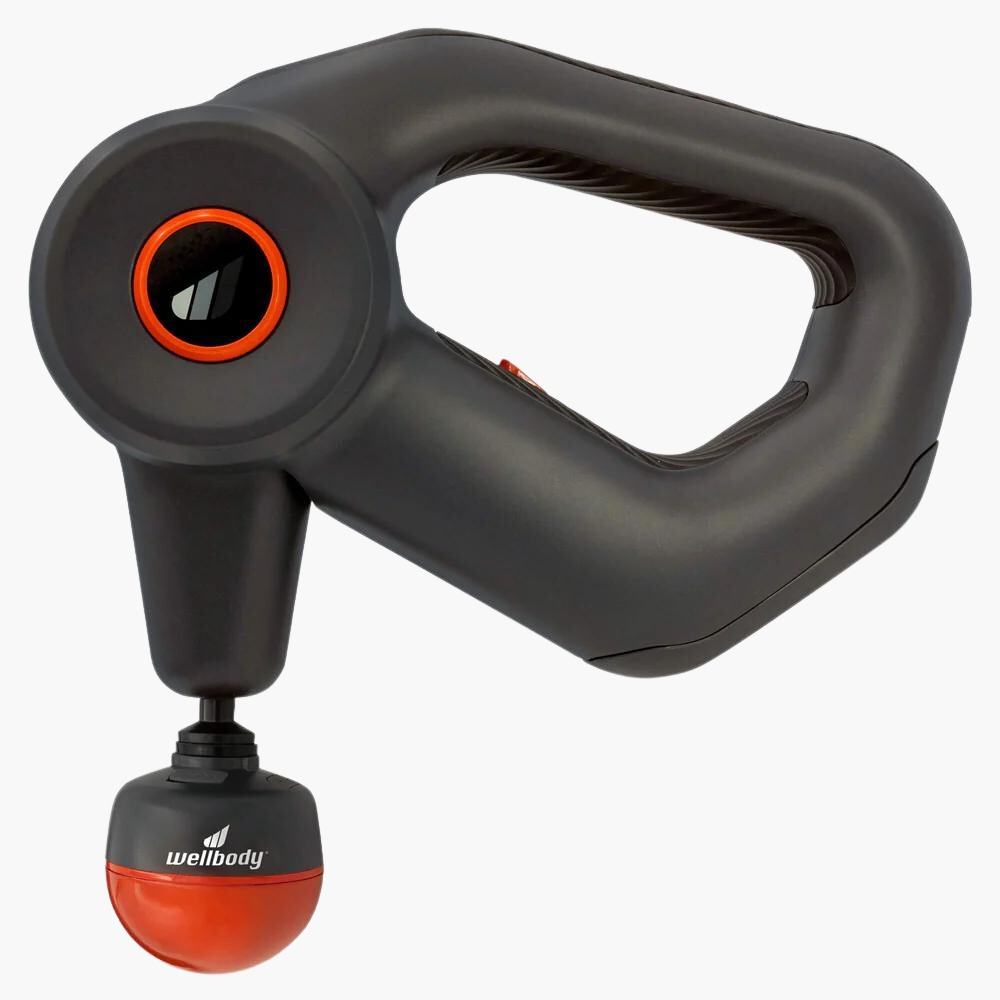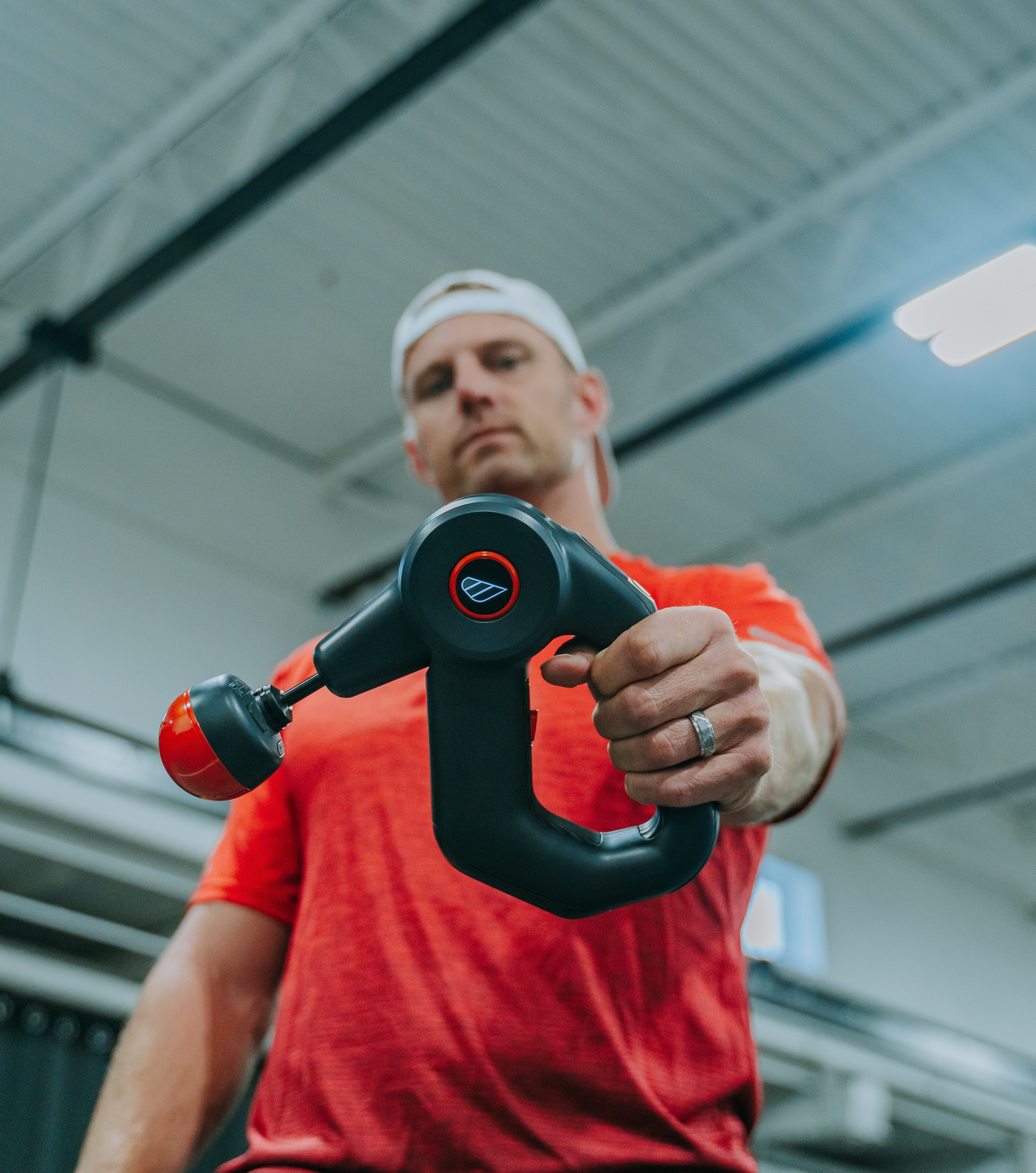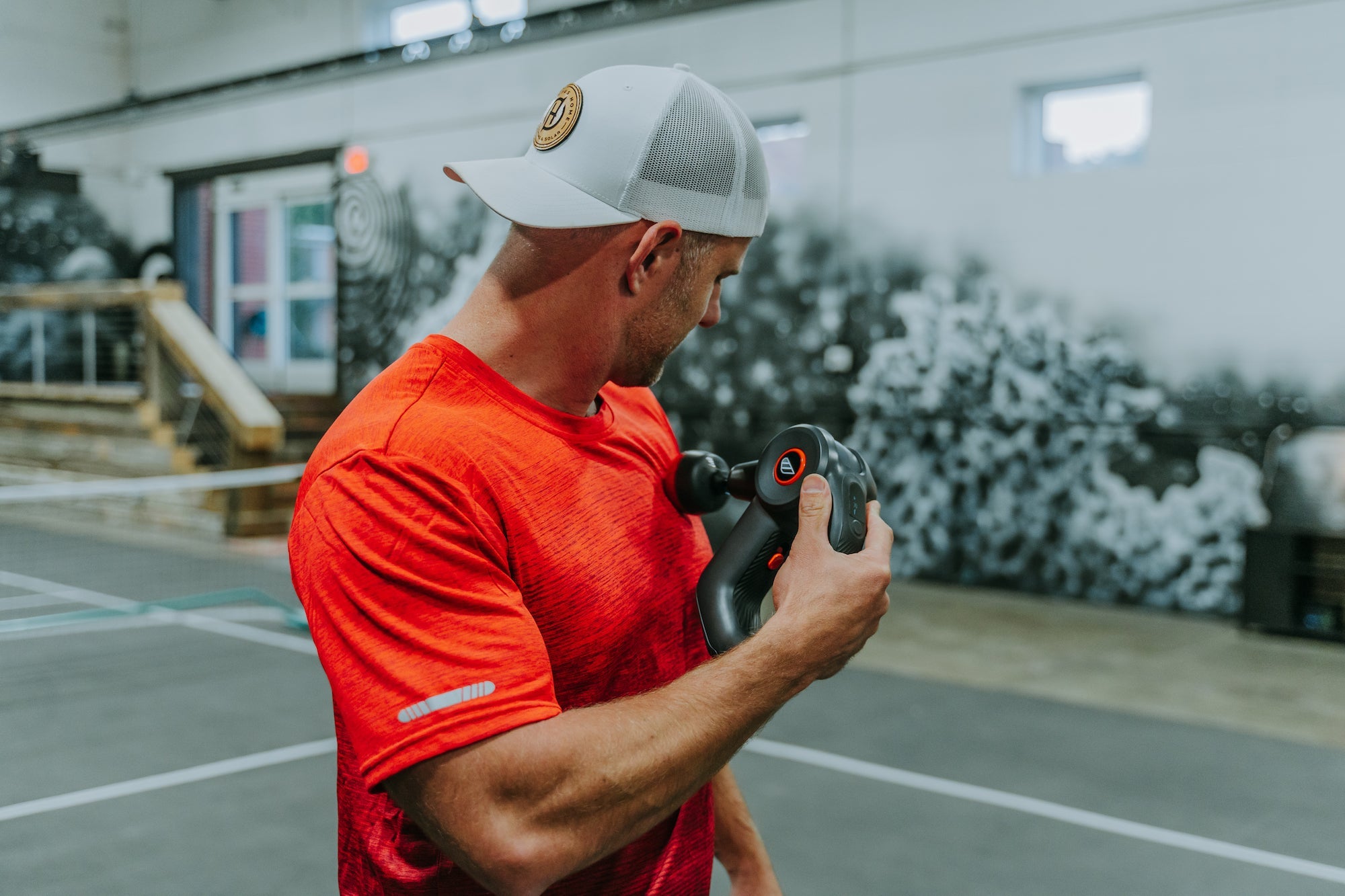 WellBody 5
The Ultimate Percussive Massage Gun
---
The WellBody® 5 (Speed) is the ultimate percussive massage gun. Not only does it feature revolutionary HeatBall™ Technology, which is designed to add heat therapy to the recovery equation, but it also provides advanced DeepSpeed™ percussion – high speed AND high amplitude (3,000 spm at 16 mm).
This therapist-level massage gun offers best-in-class build and quality, extremely quiet operation (you can watch TV while using) and has five selectable speeds or unlimited speed control via the Bluetooth enabled free app, You also get a spare battery and a premium, fitted neoprene sleeve. And, the multitude of additional features common to all WellBody massage devices.
1 Massage Gun
Bluetooth Enabled/App control
1 Charger
2 Rechargeable Batteries
1 Neoprene Sleeve
Five Percussive Tips Included (Firm)
16V System
5-Speed Operation
Weight: 890g (1127.5g w/ battery)
Stall Force: 30 lbs
Noise: 47-65 dB
Shipping & Return Information

For a limited time, we are offering Free Shipping on all domestic orders to the United States. For International Orders, standard carrier rates will apply.

At WellBody we are committed to excellence, therefore, if you are not 100% satisfied with any WellBody products for any reason, return it within 30 days of purchase.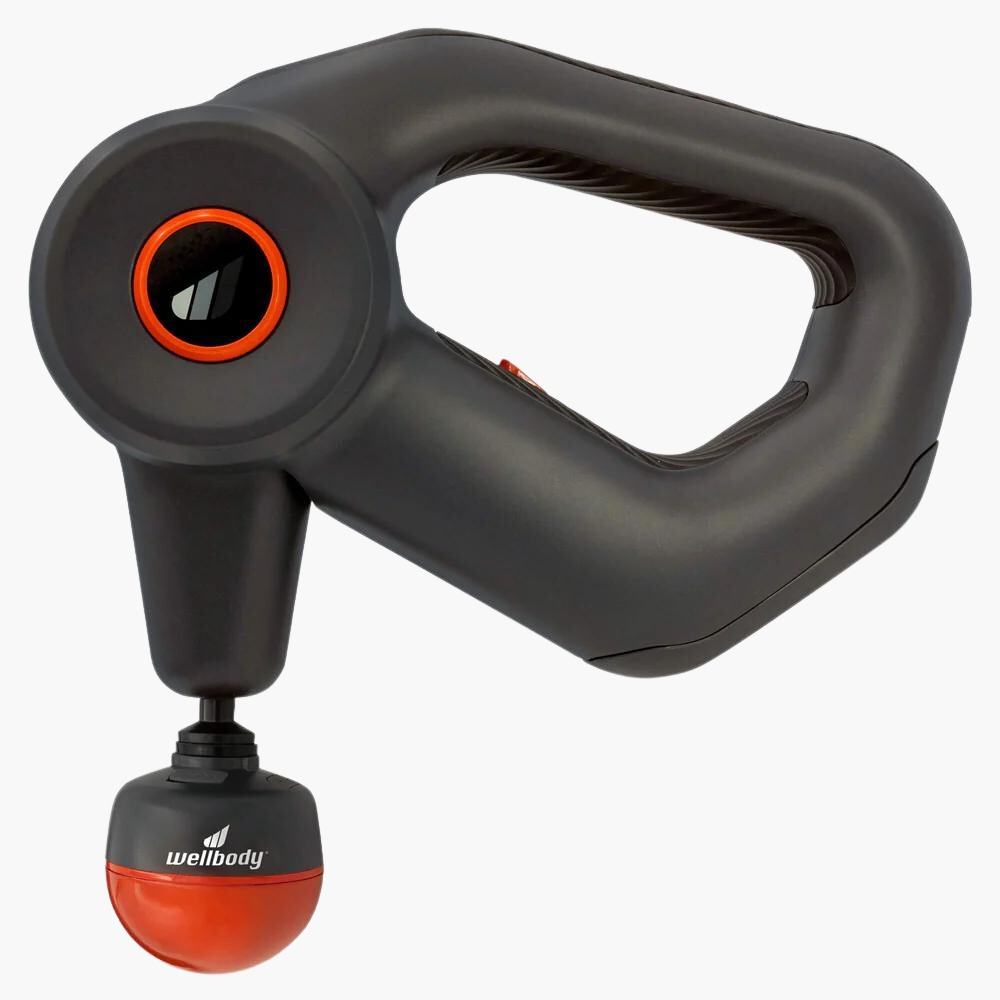 WellBody 5
Sale price

$359.99
Regular price

$599.99
(/)
This massage gun is different from other massage guns I own. It has a detachable handle, which is long and sturdy. Its length makes it possible to reach areas which normally is hard reach by myself. Now I can easily massage my back without the help of others.
Upon unboxing, this is the most convenient massage gun I've ever used! It has 2 micro USB cables to charge the massage base and the thermal massage head. Battery life is surprisingly great. Comes with 3 interchangeable heads for different muscle targets. And guess what, It heats up to 96 degrees F... best feature!
Revolutionary HeatBall™
The WellBody® HeatBall is a rechargeable heated ball that attaches to the massage gun like any other tip but that has an internal heating element that heats up the ball. The heat is transferred to your sore muscles during the percussive therapy to enhance blood flow and, therefore, promote faster recovery.
5-Speed Performance
The WellBody 5 offers five manual speed choices: 1000 spm, 1500 spm, 2000 spm, 2500 spm, 3000 spm, or unlimited speed control via the WellBody app.
4-Position Rotating Arm
WellBody Massage Guns feature a rotating arm that can be changed at the push of a button to any one of four positions. This allows you to select the position that works best for you no matter what part of your body needs massaging.
Note: To avoid releasing the battery during use, the lower beam on your WellBody massage gun is a battery compartment and not intended to be a handle. The grip on the beam is there to make it easier for you to remove the battery.
WhisperDrive Anti-Vibe Brushless Motor
Anti-Torsional Grip Design
WellBody 5 Features
Advanced DeepSpeed™ Percussion
The Holy Grail in massage gun performance is speed at amplitude. Thanks to an all-aluminum powertrain, state-of-the-art design, and precision engineering, we provide BOTH high speed AND high amplitude (3,000 spm at 16 mm of amplitude).
TwistLock™ Tip Attachment
HeatBall and other tips are easy to attach and remove. Simply slide the tip into place and give it a quick quarter turn to lock it into place. This TwistLock system is much easier, safer and more secure than the friction fit used by so many other massage guns.
WhisperDrive™ Anti-Vibe Brushless Motor
Our high-performance, brushless motor is designed to withstand the rigors of daily use and high-speed vibration. We properly secure the motor so it won't vibrate loose over time, a problem with virtually all other massage guns, which get noisier and can eventually rattle themselves to catastrophic failure.
All-Aluminum (Plastic-Free) Powertrain
The drivetrain (motor spindle, arm and shaft connection) is made of premium ADC–12 aluminum. Unlike in many other massage guns, there are no plastic powertrain parts. This means all parts will withstand the excessive heat caused by friction which effectively reduces the system fatigue that leads to increased noise and premature system failure.
Extra-Long Free-Glide™ Aluminum-Bronze Bushing
WellBody uses an extra-long, aluminum-bronze bushing (bearing sleeve) which increases overall contact with the reciprocating shaft to provide greater stability and efficiency, which reduces wear and noise.
Composite Nylon Shell
The shell on a WellBody Massage Gun is constructed of an ultra-strong, lightweight, fiberglass-filled composite nylon material that offers exceptional thermal and chemical resistance.
This product has no reviews yet.